Encocam has received both Bronze and Silver awards for Huntingdonshire District Council's Sustainable Communities Business Pledge. In 2020 HDC launched the Sustainable Communities Business Pledge award as a trial initiative to support environmental sustainability. The initiative targeted businesses in Huntingdonshire industrial estates to highlight the importance of sustainability and encourage these businesses to take actions to become more sustainable.
Environmental Sustainability Actions
Environmental sustainability demands long-term responsible use of our natural resources. Sustainability is highly valued by Encocam, so HDC's initiative was welcomed by us. Prior to the launch of the Sustainable Communities Business Pledge, Encocam was already dedicated to improving sustainability in its processes and actions to reduce our impact on the environment. The Pledge is an opportunity to further these improvements and record their success.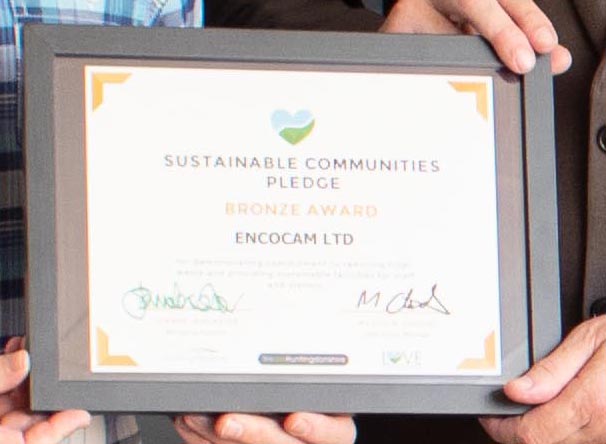 In its quest for sustainability, over several years Encocam has implemented many processes and actions to improve our responsible use of natural resources. These include investing in green technologies across all locations, such as electrification of our vehicle fleet and installation of energy management systems and photovoltaic systems, and successfully taking initiatives such as removing single use plastic from our canteens. Other actions recognised by the Sustainable Communities Business Pledge award include waste and litter minimisation as part of our Environmental Awareness Campaigns, providing staff with refillable bottles to reduce waste and even growing fruit trees in our Stonehill and Blackstone car park verges. All of these activities contributed to HDC's Sustainable Communities Business Pledge award.
Environmental Sustainability Pledge
The HDC Bronze and Silver Pledge awards add to a collection of awards recognising and commending the efforts of the company in the journey towards a sustainable environment and world. Encocam also won the Gold award in the Sustainability category at the regional SME awards in 2021, and will not stop here.
Environment and Quality Project Coordinator at Encocam, Roman Mucha, said "We are delighted to receive Bronze and Silver awards for the Sustainable Communities Business Pledge. We won't stop there, and will work hard to achieve Gold and Platinum awards in the very near future". Encocam takes sustainability seriously and will continue to do so in the future. Expect even more from us going forward.
Award winning Huntingdon manufacturing and engineering company Encocam Ltd today announced the freehold purchase of iMET, the former advanced technical training centre located on the Alconbury Weald Enterprise Campus, from Urban and Civic plc.
The building, which has remained empty since the training centre closed its doors for the final time in 2021, will be relaunched as the flagship head office for Encocam, one of East Anglia's leading employers, manufacturers and exporters. The iMET name, which stands for Innovation, Manufacturing, Engineering and Technology, will be retained by Encocam as it represents the four cornerstones of Encocam's success. The announcement comes just one month after Encocam's Cellbond business unit was named as a recipient of the Queen's Award for Enterprise: International Trade 2022, in recognition of outstanding export performance.
In a boost to the local economy, iMET will become home to the CellbondATD project team – specialist engineers and technicians who design, develop, build and test innovative crash test dummies. iMET's extensive workshop space will be developed into a state-of-the-art ISO 17025 accredited test facility with three times the equipment currently available.
This will free up valuable space at Encocam's three existing Huntingdon facilities which will be converted for manufacturing aluminium honeycomb foil, crash test barriers, vacuum tables, motorcycles and bespoke composite panels.
Founder and Chairman, Dr. Mike Ashmead, OBE, is looking forward to the expansion. "This is an exciting time for Encocam. We celebrate 35 years in business next year and the organisation continues to grow and develop. The investment in iMET will allow us to employ more staff to develop new products and services, and increase the output of existing goods"
Recruitment Co-ordinator Kim Smith believes that this is a fantastic time to join the business.  "We have a wide range of roles available and offer excellent opportunities for development and progression.  We are particularly keen to hear from people who are interested in finding out more about our apprenticeship scheme, which won the Made in Central and East of England 2022 Award.    Apprenticeships range from Level 3 NVQ Apprenticeships to a new Engineering Degree Apprenticeship in partnership with Anglia Ruskin University and are perfect for people who want to earn as they get practical experience alongside our existing team. All our positions can be found on the website, www.encocam.com, or you can contact us by email at recruitment@encocam.com."