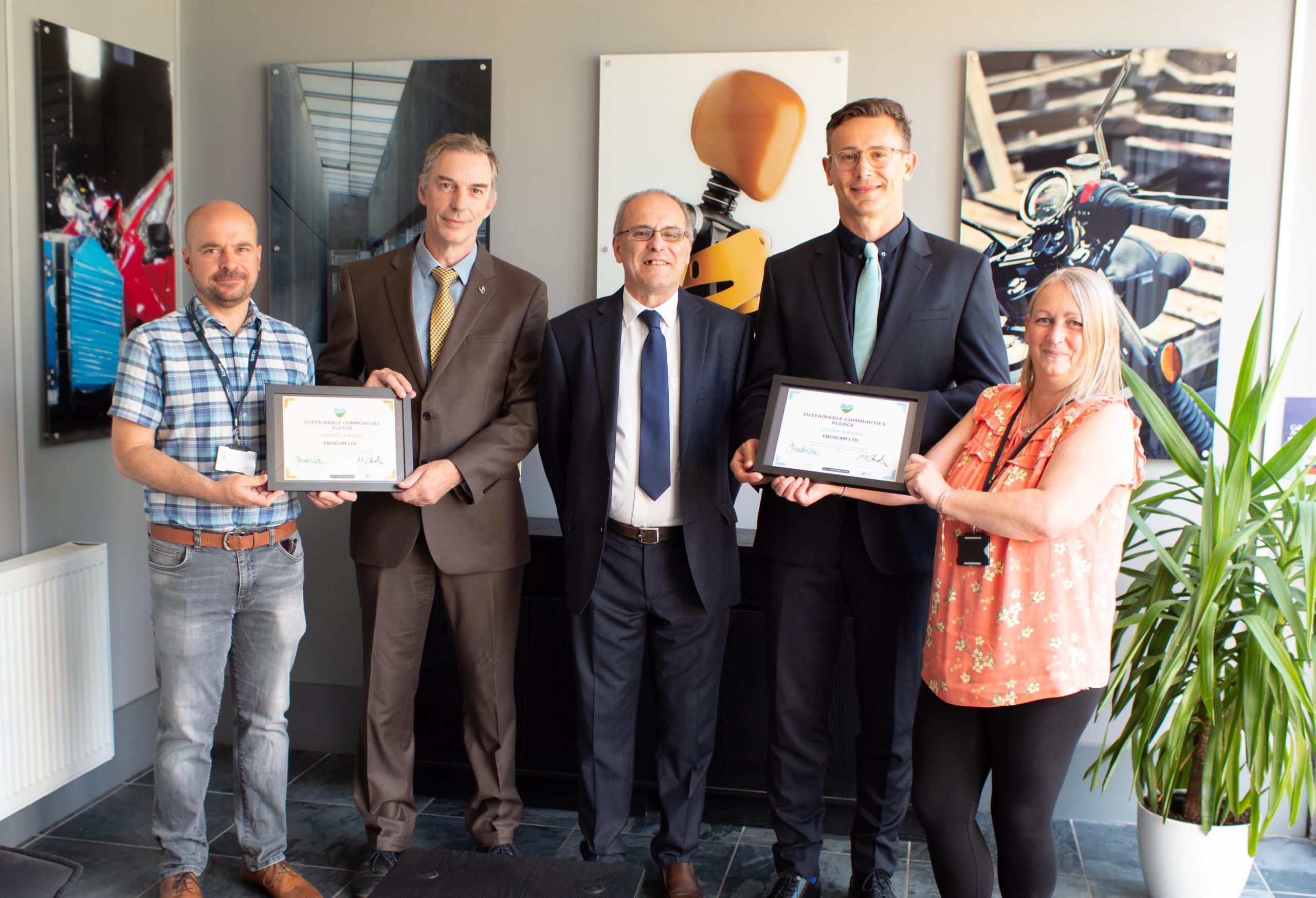 Efforts Towards a Sustainable World are rewarded
8 July 2022
Encocam has received both Bronze and Silver awards for Huntingdonshire District Council's Sustainable Communities Business Pledge. In 2020 HDC launched the Sustainable Communities Business Pledge award as a trial initiative to support environmental sustainability. The initiative targeted businesses in Huntingdonshire industrial estates to highlight the importance of sustainability and encourage these businesses to take actions to become more sustainable.
Environmental Sustainability Actions
Environmental sustainability demands long-term responsible use of our natural resources. Sustainability is highly valued by Encocam, so HDC's initiative was welcomed by us. Prior to the launch of the Sustainable Communities Business Pledge, Encocam was already dedicated to improving sustainability in its processes and actions to reduce our impact on the environment. The Pledge is an opportunity to further these improvements and record their success.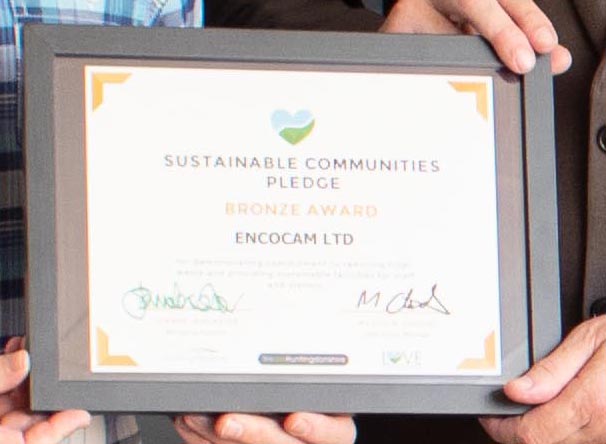 In its quest for sustainability, over several years Encocam has implemented many processes and actions to improve our responsible use of natural resources. These include investing in green technologies across all locations, such as electrification of our vehicle fleet and installation of energy management systems and photovoltaic systems, and successfully taking initiatives such as removing single use plastic from our canteens. Other actions recognised by the Sustainable Communities Business Pledge award include waste and litter minimisation as part of our Environmental Awareness Campaigns, providing staff with refillable bottles to reduce waste and even growing fruit trees in our Stonehill and Blackstone car park verges. All of these activities contributed to HDC's Sustainable Communities Business Pledge award.
Environmental Sustainability Pledge
The HDC Bronze and Silver Pledge awards add to a collection of awards recognising and commending the efforts of the company in the journey towards a sustainable environment and world. Encocam also won the Gold award in the Sustainability category at the regional SME awards in 2021, and will not stop here.
Environment and Quality Project Coordinator at Encocam, Roman Mucha, said "We are delighted to receive Bronze and Silver awards for the Sustainable Communities Business Pledge. We won't stop there, and will work hard to achieve Gold and Platinum awards in the very near future". Encocam takes sustainability seriously and will continue to do so in the future. Expect even more from us going forward.