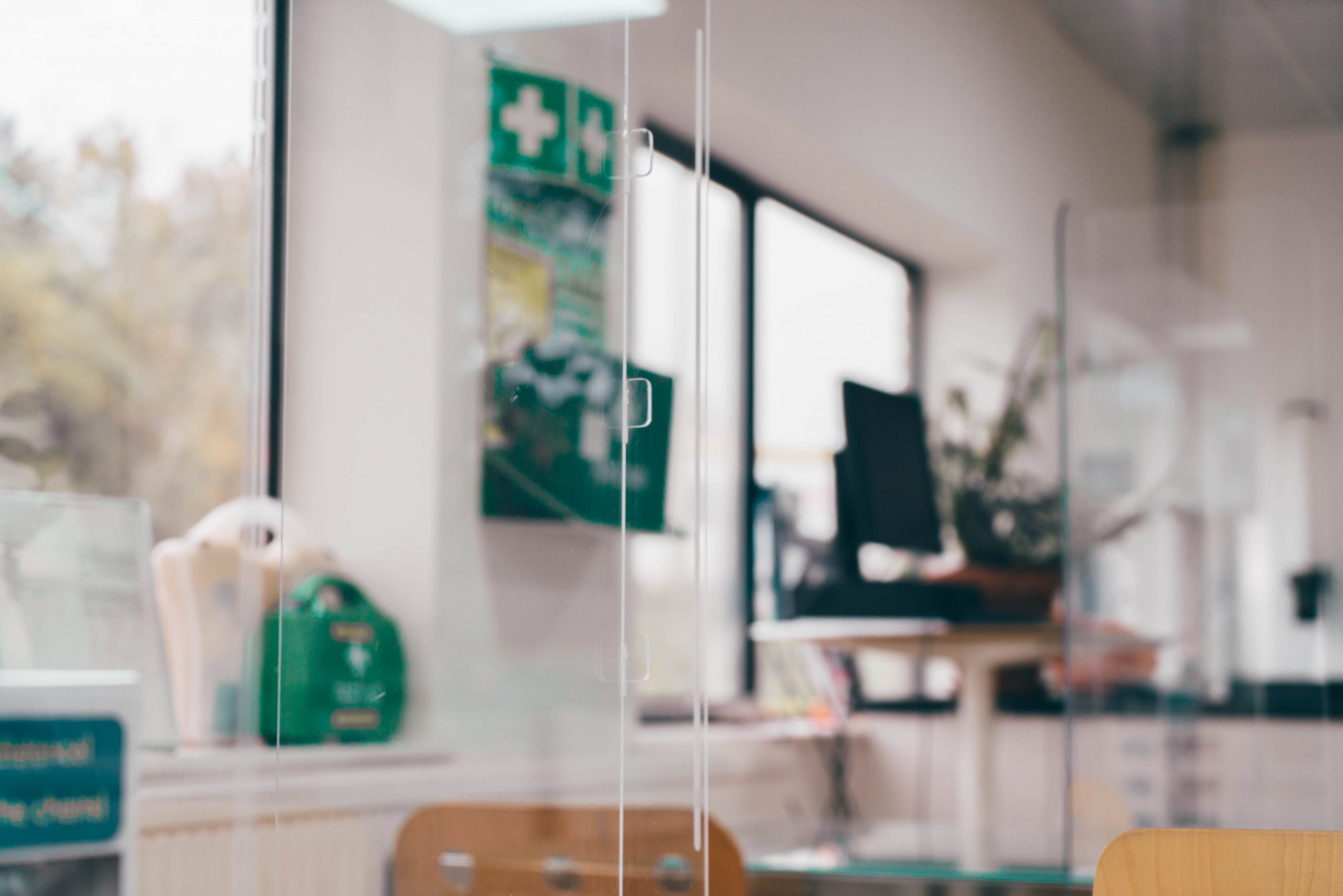 Encocam's protective desk screens installed at Cambridgeshire Chamber of Commerce
30 March 2021
Protective desk screens provide a robust solution to safeguard employees, separating workspaces and helping to intercept the respiratory droplets thought to transmit the Covid-19 virus, while still allowing visual contact to be maintained.
At our factory in Huntingdon, Cambridgeshire we manufacture desk screens following the same principles as our aluminium composite panels. They are lightweight but strong and can be supplied to exact dimensions required. Screens appear almost invisible allowing light to diffuse through easily and maintaining the appearance of an open office environment, supporting good communication whilst providing a safe barrier between employees.
The screens have been installed throughout Encocam's facilities, as well as in the offices of the Cambridgeshire Chambers of Commerce.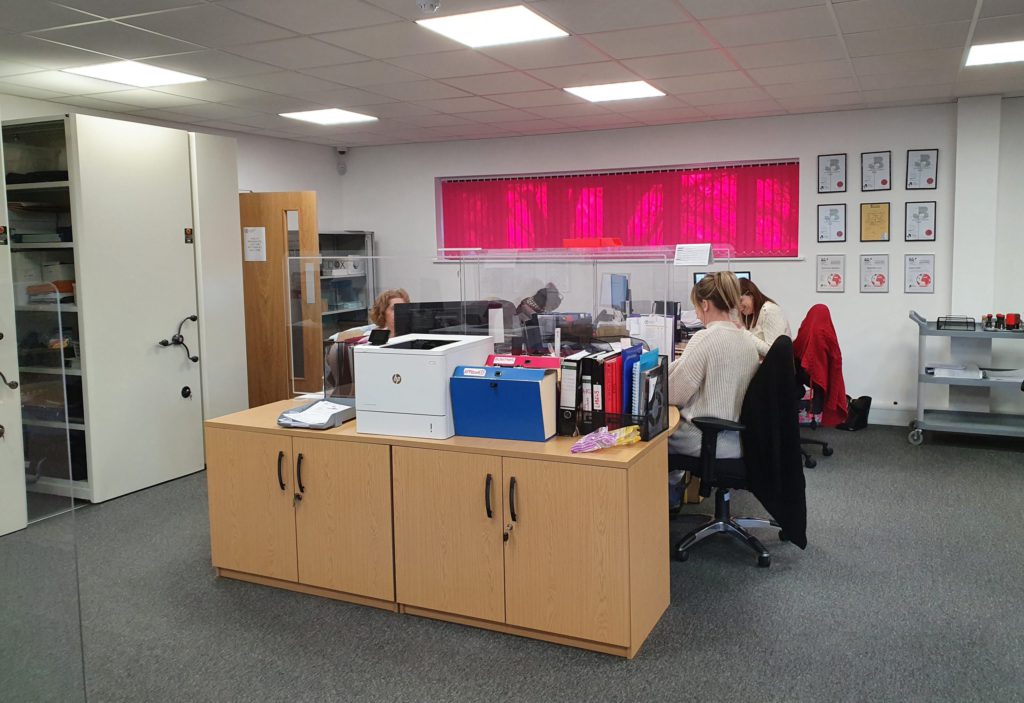 Like many businesses across the country, the Chamber needed to take steps to ensure their office was Covid-secure. After seeing the protective desk screens in use at Encocam, they decided to incorporate them into their own workplace to provide a safer office environment for their employees.
The screens are manufactured from 4mm thick clear polycarbonate, which is highly durable and shatterproof. They include smooth machined edges and are easy to wipe clean. Etched strips along the edges ensure the screens are visible, while still being optically clear to keep office spaces bright and sociable.
Staff feel much happier and safer with the screens in place as they add an extra layer of protection and the polycarbonate material used still allows the office to seem open, whereas a different material would have felt confined. We would definitely recommend the screens

Sadie Parr, Communications Co-ordinator at the Chamber
Suitable for a variety of environments including offices, canteens and receptions, screens provide employees with confidence that measures have been put in place to make it safer for them to return to work where this is possible.
Standard sizes are available, however, as the manufacturer we have the capability to make custom panels and can manufacture them to any size required meaning they will fit almost all desks and tabletops.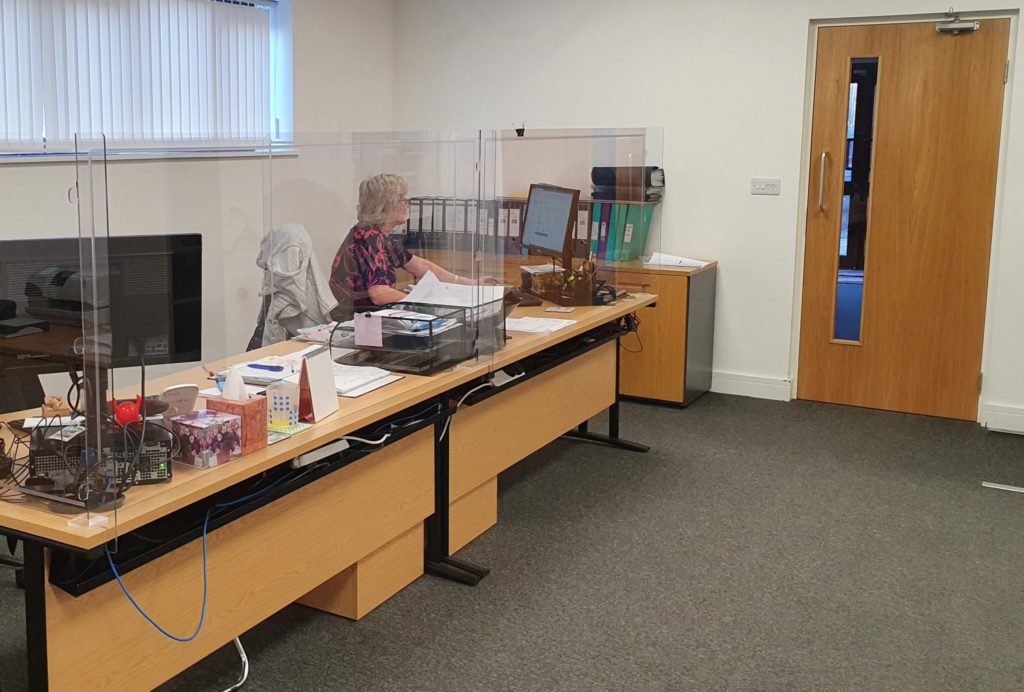 The screens are easy to install, arriving flat packed and requiring no specialist tools or skills. They are self-supporting and do not need mounts or fixings, although extra support is provided by polycarbonate feet which sit on the tabletop and are included with the screens.
There is also the option to include a company logo etched onto the surface of the screen at the time of production, or text such as safety reminders and team or department names.
If you would like to find out more, please visit the website for our BCP division, which manufactures the protective desk screens.